Ford leaving Champ Car `not the end of the world'
Another sponsor will likely step up, say racing insiders
Rick Matsumoto - January 25th 2007.
Ford's withdrawal as a sponsor of the Champ Car World Series will have no effect on the Grand Prix of Toronto, says the president and CEO of the local event, Charlie Johnstone.
However, it does nothing to enhance the image of the open-wheel series which has deteriorated because of the inability of Champ Car and the rival Indy Racing League to settle its long-standing rift and reunite.
"Yes, there has got to be some concern over the image," said one source within the series who requested anonymity.
"But I don't think it's the end of the world. I understand there's a better than average chance that a replacement for Ford will be in place by the time the season starts in April."
Johnstone said he feels Ford's departure gives Champ Car the opportunity to go in a different direction with sponsorship of the series.
"It really opens up opportunities for the Grand Prix and I'd venture to say Champ Car, as opposed to being locked down by all-exclusive sponsorships," said Johnstone, pointing to the Speed World Challenge which makes it Toronto debut this year as an undercard event, with a variety of manufacturers taking part.
Champ Car manager of media relations, Eric Mauk, pointed out that Ford was not the title sponsor of the series, but rather a "presenting sponsor" along with Bridgestone.
The two companies assumed that co-sponsorship in 2004 after CART declared bankruptcy and the assets of the series were purchased by current owners Kevin Kalkhoven, Gerald Forsythe and Paul Gentilozzi.
The 17-race series is slated to make its Toronto stop July 6-8, and will run as usual over the 1.755-mile road circuit through Exhibition Place and along Lakeshore Blvd.
Ford, which has been associated with Champ Car and its predecessor, CART, since it re-entered open-wheel racing in 1992, said the series no longer met the company's business plan.
"We evaluate all of our racing programs on an annual basis and have decided that this sponsorship does not align with our current business objectives," said Dan Davis, director of Ford Racing Technology.
Champ Car president Steve Johnson said thanked Ford for its long partnership with the series.
"We are continuing building a bright future for the series and are exploring a number of other options for a manufacturer partner," he said.
Champ Car currently uses engines made by Cosworth, once a Ford subsidiary but now owned by Kalkhoven and Forsythe.
RENAULT'S NEW RIDE: Renault unveiled its new Formula One car yesterday. The R27 Renault racked up 2,000 kilometres during testing in Jerez, Spain, last week, company officials said.
---
Crossover gives Ford more than Edge
Jim Kenzie - January 20th 2007.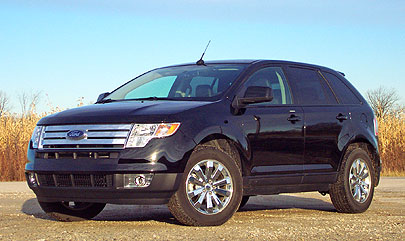 Buzz. You can't make it. You can't buy it. It just happens.
Based on an extremely unscientific survey with a statistically invalid sample size, I'd have to say that Ford's new Oakville-built Edge crossover utility vehicle might just be getting some positive buzz.
I had an early production version for a couple of weeks – a normal test drive that spilled over into the holiday season.
And a larger-than-usual number of onlookers, passersby and runners-into commented positively on it.
One man, I'd guess in his late 40s, stopped me in a Hwy. 401 service centre parking lot.
2007 Ford Edge Crossover
Price: base SE/SEL/as tested $32,999/$35,999/$42,499
Engine: 3.5-litre V6
Power/torque: 265 hp/250 lb.-ft.
Fuel consumption: (L/100 km) FWD/4WD city 13.0, hwy 8.5/13.5, 9.1
Competition: Chrysler Pacifica, GMC Acadia, Nissan Murano, Lexus RX 350
What's best: Strong styling, interior room, pleasant dynamics, quiet ride
What's worst: Some safety niggles, engine noise
What's interesting: This could be the vehicle that puts the term "crossover" into the public domain
"How do you like it?'' he asked expectantly.
"It's pretty good,'' I said.
"Just `pretty good'?'' he replied, somewhat disheartened. "I've been thinking about buying one.''
"What do you drive now?'' I asked.
"I have a Ford Fusion. Had an Infiniti G35, but had all sorts of troubles with it – front brakes, differential or something to do with the traction control – not sure. Anyway, I like the Fusion better.
"I also have a Ford Explorer, which I'm thinking of trading in on the Edge.''
Ford couldn't have invented a better potential customer than this guy.
Not just because he likes his Fusion better than his former much pricier Japanese luxury car, but because Ford's entire plan is for Explorer owners – a once-huge, now rapidly diminishing breed – to move into the Edge.
They have similar interior package, tall seating position, still with four-wheel drive albeit intended for on-road use.
Much more car-like ride and handling, better fuel economy, more safety.
Now I must add that the buzz wasn't all positive. None of the altitudinally disadvantaged women in my household – even my youngest daughter, who by our standards is WNBA material – liked it. They said it felt too big, notably too wide, especially the massive dashboard, which seemed intimidating.
Funny; the market research says that one thing women typically like about SUVs is that they sit up high, feel protected in a large vehicle.
I guess size matters differently to different people.
But measured against the objectives laid out for it, the Edge does a decent job.
Styling is of course subjective, but I think it looks good, if not dramatic.
One observer who had just replaced the tires on his own car noted that the optional P245/60R18 rubber on the smaller-than-they-look 18-inch wheels would cost a bundle to replace.
But located as they are near the corners of the body, they do give Edge a strong stance.
Another downside to the big tires is that this Ford sits high off the ground.
That makes for a bit of a climb into the seat and, for the shorties, a difficult reach for the hatch handle. It's hard to get enough leverage to lift the hatch up and even harder to stretch to pull it down.
With a power hatch lid increasingly common on minivans and SUVs, it's only a matter of time before it's available on Edge, too.
The three-horizontal-bar grille, launched on Fusion and soon to be on every Ford, lends family identity.
I almost never open a sunroof, and always keep the sunshade closed to reduce reflections on the dash and windshield. But if you are a fan, you are gonna love the optional ($1,700) powered Vista roof, one of the largest such devices on the market.
The interior is strictly a five-seater; the width helps make the back seat almost feasible for three adults. A single lever on either side flips and folds the 60/40 split seatbacks onto the cushion to expand the already sizable cargo area. An electro-mechanical flip-folder is optional, but the manual one works so well you'd wonder why anyone would bother.
The front seats are comfortable on long drives as I found out on a roundtrip to Detroit in two days.
The new V6 is Ford's engine of the future. Lots of power and decent performance, assisted by a six-speed automatic transmission.
At a future trends seminar (the reason I was in Detroit), Ford executives said they're trying to engineer more refinement into their products: more solid door-closing sound, less irritating warning chimes, more mellifluous exhaust notes.
They should start with Edge on the latter attribute: it sounds honky and unpleasant when revved hard, although at highway speeds it is nearly inaudible.
A long-standing beef about Ford's console-mounted transmissions is that you can't shift into Neutral from Drive without depressing the thumb button.
Why does this matter? Because in an incipient skid, the first thing you want to do is decouple the wheels from the drivetrain, so the tires' collective grip can be dedicated to changing direction.
Power, braking, even the retarding effect of engine drag, are exactly what you don't want.
But if you have to hit the button to hit Neutral, there's a strong chance you'll overshoot into reverse or, worse still, Park.
Remember, this is likely to be a panic situation.
I have asked Ford transmission engineers why they do this – they are just about the only ones in the industry who do – and they don't have an answer. That's because there is no answer because it's one of those things "we've always done this way'' and no one has ever questioned why, or thought about the consequences.
Ford has these damnable automatic locks, the most irritating feature in all of autodom. This can be reprogrammed, but only by the dealer. Surely the customer should have this option.
The electrochromatic auto-dimming interior rear-view mirror means you can't see a damned thing out the back at night through the SUV-requisite tinted glass. Visibility is the most important safety feature a car can have. Why doesn't anybody else understand this?
Edge is a big, heavy vehicle, but the MacStrut front/four-link independent rear suspension provides pretty competent handling, with decent steering and composure in the corners. The ride is perhaps a bit firmer than it really needs to be, but is at least better than the Explorer.
The four-wheel-drive system is adapted from the compact Escape SUV. Combine that with directional stability control and Ford's roll control stabilization system, and if you fall off the road in an Edge, you're really dumb. Or maybe drunk.
A front-drive model is also available, but I don't really know why.
There are airbags all over the place, but the lack of active head restraints – my current crusade – is simply inexcusable.
The Edge is aimed at what everybody in the industry calls the crossover segment. Except I don't hear customers calling anything a crossover – maybe it's just a matter of time.
And of course Ford already has what I think is one of the best vehicles in this segment in the Freestyle. It's larger, has more seats, has at least as good dynamics and has Volvo underpinnings. Except they don't seem to be able to throw Freestyles off buildings onto prospects.
With the buzz starting to build, maybe they'll have more success with the Edge.