Nazi-era racer on the block
Colleen Long - January 26th 2007.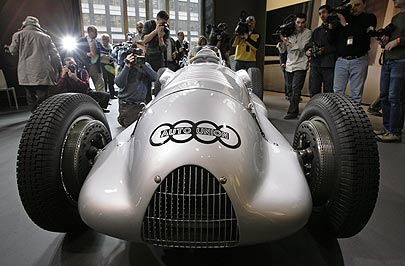 NEW YORK – A rare Nazi-era race car hidden in a German mine shaft during World War II and said to be worth millions of dollars has gone on display.
The sleek silver D-Type from Audi forerunner Auto Union is to be on display for two days through Friday at the car company's fancy showroom on Park Avenue. It will be auctioned as part of Christie's Retromobile auto sale on Feb. 17 in Paris. The anonymous seller expects it to fetch $12 million to $15 million.
While Adolf Hitler gave about 500,000 reichsmarks to Auto Union and Mercedes-Benz to promote racing and technology, the car is not specifically affiliated with the Third Reich, Christie's said.
The car, one of only two in existence, is thought to be the grandfather of modern race cars. It revolutionized racing by putting the driver in front of the engine instead of behind it and reached speeds up to 185 mph.
"This car was really quite ahead of its time," said Rupert Banner, head of Christie's International Motor Cars division. "It was revolutionary. It changed the face of racing.''
More than 20 Auto Union series cars were built between 1933 and 1939. This model, which has a body shaped like an airplane fuselage, was designed by Ferdinand Porsche. The driver sits sunken into the body of the metal, and the wheels, which look like oversized bicycle tires, have independent suspension.
"There was a kind of memory loss after the war," said Audi historian Thomas Erdmann. "It took really until the early 1960s and later on to the 1980s for car design to catch up to these cars.''
During the European motorsports heyday just before World War II, the D-Type won the 1939 French Grand Prix. The Silver Arrow, as it was known, also was filmed winding through country roads for use in newsreels across Europe. In racing, German cars were always silver, British were racing green and French were blue.
During World War II, Auto Union workers hid the cars in a mine shaft in eastern Germany to avoid using them for scrap metal. After the war, the Russians discovered the cars and took them to their own country, along with dismantled Auto Union factories, to re-create motorsports.
"They vanished, lost behind the Iron Curtain," Erdmann said.
The cars eventually were taken apart. An American car collector came across car parts in a scrap heap in Ukraine and took them back to England, where experts Crosthwaite & Gardiner restored this car. Christie's did not say who is selling it.